Chinchero
Chinchero is a beautiful Andean village. There is also a great vestige, with all the characteristics of the other vestiges in and near Cusco.
Chinchero is located high at 3762 m about 30km from Cusco, on the road to Urubamba and the Sacred Valley. There are magnificnet sceneries and landscapes, with views overlooking the Sacred Valley of the Incas. The Cordillera Vilcabamba and the snow-capped peak of Salkantay dominate the western horizon. Chinchero is believed to be the mythical birthplace of the rainbow.
It's major claim to tourism is its colourful Sunday market which is much less tourist-orientated than the market at Pisac; but of course we found important stonework there also, when one walks a bit further down from the terraces, there are interesting Hanan Pacha stones and vitrification examples to be seen. The village was probably important during Inca times. A massive stone wall at the main plaza (plaza de Armas), has ten trapezoidal niches. There is a museum at the Plaza, and the snake form from the video below can be found in one of the doorways on the same Plaza.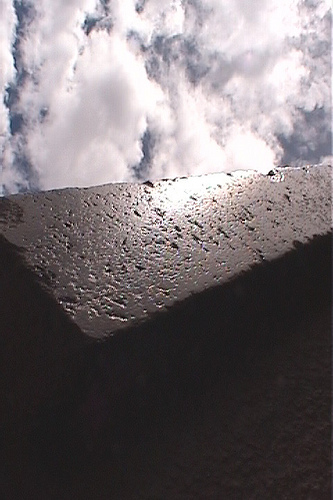 A vitrified and moulded stoneblock, Plaza de Armas Chinchero.
See a video about a vitrified 'portal' with a snake form, also on the main square or 'Plaza de Armas' in Chinchero:
To get a good idea form Chinchero from a birds view, see our video from the air and notice the beautiful terraces and the pieces of Hanan Pacha, stones from the first style:
Return to top